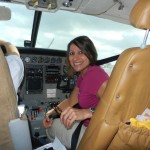 "All good things must come to an end…" Well, hopefully not completely…
While it is true that my 4-month fellowship in Tanzania "has come to an end" it is with the greatest of hope that the foundations in which accomplishments were achieved are sustainable and will continue to foster even greater successes in the months and years to come.
Supporting PSI the last few months has been one of the most life changing and rewarding experiences. PSI has established a new Health Services department that will focus primarily on supporting the franchise clinics with additional services to assist the people and communities of Tanzania. Health Services will work to educate, train, and develop providers in clinics to offer high quality health services; and will continue to work to insure those high quality standards are maintained.
Previously, PSI was supporting Family Planning services. During my tenure here, we have launched cervical cancer prevention and treatment programs, as well as programs for prevention of childhood illnesses. Near the end of my fellowship, PSI began launching a third additional service to provide safe Post Abortion Care. Implemented programs will heavily impact morbidity and mortality in women and in children under the age of five.
As I return home to the United States, I search my memories and experiences to define what the past four months have meant. All the superlatives come to mind "life changing", "unbelievable", "amazing", "eye opening", but what do those terms mean? For me, they serve as a springboard to advocate the need for improved health services in underdeveloped communities. To drive home this point, I go back to a heart wrenching fact I learned while I was here and I posted in an earlier blog. Tanzania is a country of 43 MILLION PEOPLE. It is twice the size of California, yet the country has ONE HOSPITAL that provides chemotherapy treatments… and this is merely just one example of the need to improve access to life saving medical care; unfortunately, there are so many more.
I want to thank Pfizer for the opportunity to become a part of the Global Health Fellows program. Without corporations who are truly dedicated to social responsibility, the path to identifying the tremendous need for support would be much more difficult to navigate. As Pfizer continues to develop medications and develop its people who can develop innovative strategies, there will be continued hope for UNDER developed nations.
Not a patient yet but wish to get our weekly e-mail medical news summary and be able to ask questions of the doctor?  Click Here