Healthy Pizza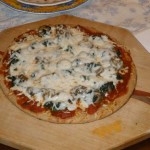 Author:
EVERYONE loves pizza, and if you DON'T you're probably from another planet…or another dimension entirely. But the PWP (Problem With Pizza, not Parents Without Partners) is this: it's got way too much saturated fat and cholesterol, glycotoxins, is fiber-poor, and REALLY fattening. Who wants to eat it if you have to WEAR it too? Take heart! There IS a way to make pizza really healthy and absolutely delicious, high in fiber, and cholesterol-free. And it's easy too!
Ingredients
1 Whole Wheat Boboli bread (or other whole wheat crust)
1/2 cup tomato sauce (any kind will do)
1 – 6 oz. package of Trader Joe's (or other brand) Mozzarella soy cheese
6 to 8 ozs fresh spinach (or use frozen)
1 to 6 cloves of garlic (to taste)
1 Portobello mushroom cap
1/4 cup Extra Virgin Olive oil
Fresh basil (to taste; use dried if you have no fresh product)
Nonstick Pizza pan
Instructions
Preheat oven per Pizza bread instructions.
Heat olive oil in skillet; while heating, dice garlic and cut mushroom in small pieces.
Cook garlic and mushrooms in oil until done and add spinach and basil.
Shred cheese with grater.
Coat pizza shell with sauce and layer toppings evenly.
Sprinkle cheese evenly over pie and cook on pizza pan for 8 to 10 minutes.
Let cool for 3 minutes, slice and serve.
Serving size:
slice
Calories:
160
Fat:
6g
Carbohydrates:
24g
Fiber:
4g
Protein:
11g