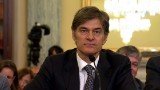 If you didn't see it Dr. Oz was called before Congress and chastised for his wild claims that weight loss could magically happen with "fat burning" supplements promoted on his television show.  Senator McCaskill took Oz to task for a 2012 show in which he proclaimed that green coffee bean extract was a "magic weight loss cure for every body type."  But Oz did agree that there's no long-term miracle pill out there without diet and exercise.
So for once the idea that people can lose weight when given the right nutritional advice and  the right tools is getting a look by the public.  So where does one go to get the tools he needs to lose weight, without gimmicks, wild supplement claims and scams and have some fun in the process?  Where a published nutritionist, doctor, psychotherapist, chef, yoga instructor, and health coach await.  Look no further than our own "Olney Integrated Weight Loss Solutions" which we launched in April.  Our first group of 25 people lost on average twenty pounds over ten weeks and continue to lose weight.  Our next group is forming to start on the week of September 15.
[easychart valuenames="Week 2, 3, 4, 5, 6, 7, 8, 9, 10, 11,12″ group1values="1.5,3.0,4.5,6.0,7.5,9.0,10.5,12.0,13.5,15.0,16.5," group2values="3.99,8.81,9.09,11.0,13.8,15.4,16.7,17.5,19.5,21.43,23.36″ groupnames="Goal, Present Group" ]
  Program Participants
Author Nutritionist Rick Weissinger RD, MS, CPT
Psychotherapist Andrea Lopes LCSW-C
 Yoga Instructor & Personal Trainer Kathi Doan
Washingtonian Top Doctor Edward Taubman, M.D.
Local Chef Debbie Amster Recently Featured On Local TV
This Ten Week Program Meets Weekly From 7:00 to 8:30PM At The Olney Counseling Center at 3430 North High Street
Topics Covered Include
Re-Engineering Your Food Intake – What Should We Be Eating?
Emotional Eating – Identify Your Triggers And Develop Strategies To Manage Them
Get Moving And Relax – Yoga Techniques to Help You Win The Battle
Learn To Cook And Eat Healthy With Cooking Demos
  Participation Is Limited To approx 25 people.  You can get on the list to attend our next informational meeting on Monday evening September 8 and reserve your Spot for the next group by Filling Out Our Registration Form Below.  The present cost is $599 (patients of Dr Edward Taubman and Members of OlneyMyWellness receive a $100 discount).

Call 301-774-5400 for More Information
[si-contact-form form='5′]