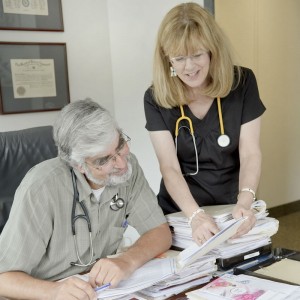 If you are at this site you likely are already a patient of Olney Medical and know all about Dr. Edward Taubman and our wonderful staff.
Olney Medical was started by Dr. Taubman in 1979 and has since attended to tens of thousands of patients and their families in the greater Olney area.  The practice has repeatedly been rated by patients and physicians as "Top Doc" in Washingtonian and Checkbook Magazines.  Dr. Taubman, in addition to his expertise as a primary care physician, is also a local expert in the hereditary aspects of cancer and is a graduate of the City of Hope Program in Cancer Genetics and is a member of the Fisher Center for Familial Cancer Research at Georgetown Lombardi.  Dr. Taubman writes a number of health blogs and is the medical columnist for the Greater Olney News.
In addition to treating illness when you are sick we offer a full range of preventative services for teenagers to seniors including:
Complete Preventative Health Checks
Diabetes Management
Thyroid Management
Osteoporosis Management
High blood pressure and cholesterol management
Cancer Prevention Counseling including familial cancers
Nutritional Advice and Weight Loss
Complete Blood Work (We Have our own phlebotomist onsite)
Vaccinations including regular and high potency flu shots for seniors, pneumonia shots including regular and Prevnar booster, tetanus including DPT to prevent whooping cough, shingles vaccine, meningitis vaccine, and TB testing EKG
Phone:  301-774-5400 Our office is closed on major Holidays.  We answer the phones M-F 9-12 and 1:30-4:30  We are conveniently located in the heart of Olney at the junction of Georgia avenue and 18213 Hillcrest Avenue.  For the duration of the pandemic you must call ahead.  No walk in visits will be allowed.
Dr. Taubman is available through answering service 301-570-7310